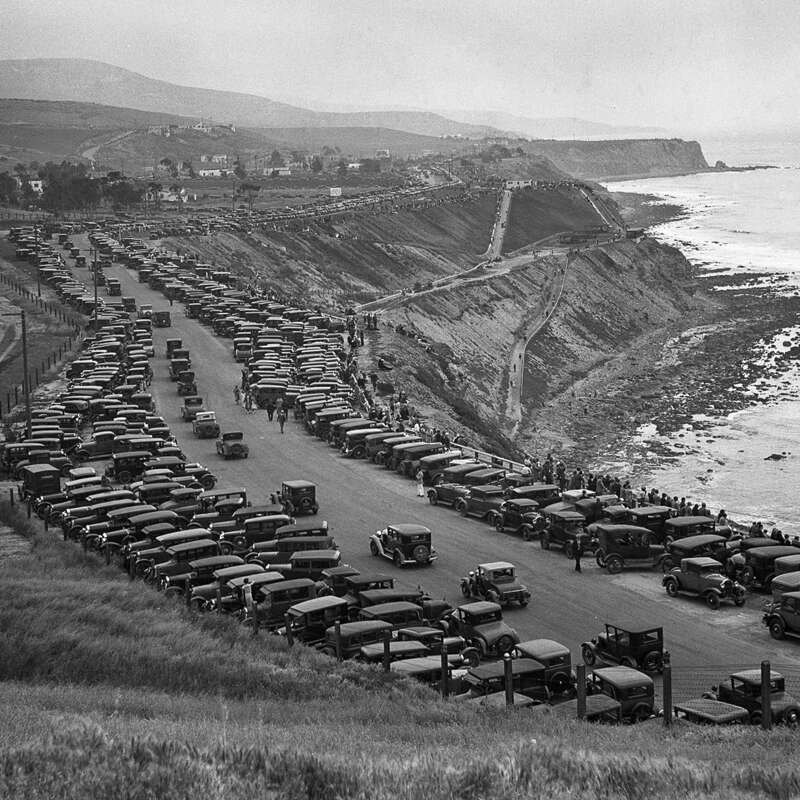 Pin-insights
Since the April publication of passenger car production data, down year-on-year by double digits, an eery calm has descended on the industry across the world, playing cool with investment plans and R&D projects...
Business as usual surely...?
The trend lines tell a different story
Production data, and backsliding sales projections around the world, deprive the car makers of any potential growth market precisely when the industry is confronted with the most complex challenge known, and the most costly - the invention of power systems relying on electricity or hydrogen, while simultaneously managing the transition with low-emission internal combustion engines
Without the economies of scale and the financial strength of global firms, smaller manufacturers must head for port and hope to ride out the coming storm by clustering around market leaders in partnerships if the opportunity arises... or disappear
**
Although out-of-date, the 2016 production data highlights the market share of top car manufacturing countries and the exposure of their industries (car parts and assembly) to the coming upheaval
| Rank | Country | Cars produced | % of total |
| --- | --- | --- | --- |
| | | | world production |
| 1 | China | 24,420,744 | 33.9% |
| 2 | Japan | 7,873,886 | 10.9% |
| 3 | Germany | 5,746,808 | 8.0% |
| 4 | USA | 3,934,357 | 5.5% |
| 5 | South Korea | 3,859,991 | 5.4% |
| 6 | India | 3,677,605 | 5.1% |
credit - 2016 worldometers
Production trends flashing red
Since April 2019, monthly car production is down year-on-year by double digits across Asia – in China by 15%, in India by more than 20%, dipping by 8.9% in the first half of 2019 in the US (13 million units produced in 2018, -1.3% over '17) and expected to stall in Europe around 2018 levels (16.5M passenger cars produced, marking a small 1.7% drop over 2017)
China and India, pulling back in double digits, are the main large volume growth markets for the global firms, dimming their outlook for 2019 and leaving much uncertainty mid-term
Sales for January-June of light vehicle sales could signal an extended slump
Sales units (in '000)
YTD 2019
YTD 2018
% change
China
12 075
13 786
-12,40%
Western Europe
8 700
8 957
-2,90%
USA
8 432
8 610
-6,60%
Japan
2 719
2 695
-7,30%
Eastern Europe
1 981
2 137
-7,30%
Brazil/Argentina
1 491
1 610
-7,40%
Others
7 930
8 609
-7,90%
World
45 159
48 326
-6,60%
source LMC Automotive - June 2019
Autoline projections for the entire year 2019 paint an industry at a tipping point
With a total production capacity of 137 million vehicles and sales expected to reach 92 million units, excess capacity of 45 million units leaves weaker manufacturers dangerously exposed
Exacerbating the dangers, planned additional production capacity of 52 new assembly plants by the end of 2020 will add a projected 6.4 million vehicles , most of which will be built in China, a market in retreat from its highs (-5% 19/18) - an export push cannot be far away ....
Cars in China
From 2005 through 2017, sales sextupled, from 4.0 million vehicles to 24.7 million vehicles, but the growth spurt in China has given way to stabilization and 2019 looks unpromising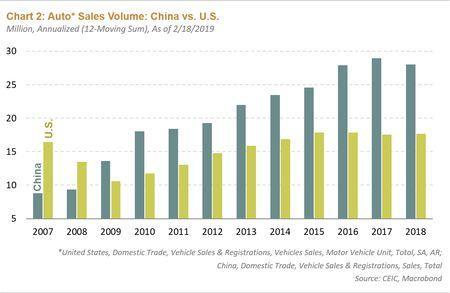 Causation matters because very different consequences face Western car manufacturers who are heavily committed to China
Financial deleveraging, tightening liquidity and credit availability, and crack-down on peer-to- peer lendingl have weighed on car sales, along with other cyclical factors, foremost trade disputes
But structural factors should be of much higher concern for car makers in the medium term
the used-car market is an alternative today with a ratio of used / new of 1:2
for environmental air quality reasons, tight regulatory control on new licence plates has spread from Beijing (allowing 240 000 in 2010 and only 40 000 in 2017) to other cities and car-emission standards have been raised in 15 cities and provinces, ahead of the government mandated deadline (2020)
fast growth of riding-share Didi Chuxing has become the default transportation option - with 30 million rides a day and more than 10 billion for 2018
infrastructure constraints can be expected to impact severely free access to individual cars in Chinese cities
The New Energy Vehicles (NEVs) policy, adopted in 2016, combine public subsidies for electrical and hybrid vehicles with quotas for NEV sales by the manufacturers. inching up from 10% of sales in 2019 to 18% in 2023 (under a recently announced new carbon-credit program)
Subsidies are being phased out, adding to the uncertainty of Chinese consumer response to the new car line-up, the price strategy to induce traditional car buyers and its impact on the bottom line
It can be argued that China is preparing to skip the well-trodden path favoring individual transportation over extended road infrastructures
The regulatory framework, NEVs and new transportation modes (ride sharing, self-driving public vehicles) seem to suggest so much and the reluctance to bail out the industry with subsidies will facilitate market consolidation around large players, able to sustain the financial effort
China's haves and have-nots
A review of Western car makers producing in China draws a stark line between the leaders and the (potential) drop-outs
Well-established manufacturers are standing tall - a select group including Volkswagen (in China since 1978), GM (since 1997), the Japanese car makers - Honda, Toyota and Nissan - and, on a smaller scale, the German luxury brands
Produced in China
in '000
Sales units
Sales units
In's
2017
2018
% 18/17
Jan-Jun 2019
Volkswagen
3 100
3 100
-
1 410
GM - Buick
1 200
1 050
-12,5%
439
GM - Chevrolet
600
670
11,7%
280
GM - Cadillac
173
228
31,8%
114
Honda
1 400
1 400
-
750
Toyota
1 100
1 300
18,2%
690
Nissan
1 100
1 100
-
530
Luxury
Mercedes-Benz
446
513
15,0%
295
BMW
385
465
20,8%
263
Out's
Hyundai
785
790
0,6%
276
Ford
840
383
-54,4%
100
Peugeot
250
139
-44,4%
35
Renault
-
50
-
9
source - carsalesbase.com
All the other well-respected brand names are in for a rude awakening, with 2019 sales in free-fall (following a mostly disastrous 2018) and South-Korea's Hyundai is no exception with a 30% drop in sales in 2017
Just to stand still, the Western majors maintain a harrowing investment schedule
Volkswagen - opened 3 additional plants in 2018 and is building a fourth 300,000 cars-capacity factory in Shanghai dedicated to electrical vehicles
GM employs 58 000 personnel in 10 joint ventures
Toyota is reportedly investing in capacity in Tianjin and Guangzhou to produce 240,000 more vehicles annually
Honda opened a $435million assembly plant in Wuhan (capacity 120.000 vehicles) in April '19, in partnership with Dongfeng
Nissan targets a production capacity of 2.1million cars by 2021
The future, in China, of Hyundai (5 plants), Ford (7 plants), Peugeot (4 plants) and Renault (1 plant opened in 2016) is probably in doubt as their production capacity is vastly superior to sales
The shake-out will affect the Chinese manufacturers as well, forcing closures and mergers and focusing the mostly State-owned enterprises operating in partnership with Western firms (with the exception of Geely) on specialized expertise
We suggest that by 2020-2022 a remodelled Chinese car industry, operating electrical and hybrid powertrains, will take on export markets with line-ups benefiting from technological advance acquired domestically
Cars in India
Car production in India is gaining ground but nowhere near the lighening growth experienced in China since the early 200's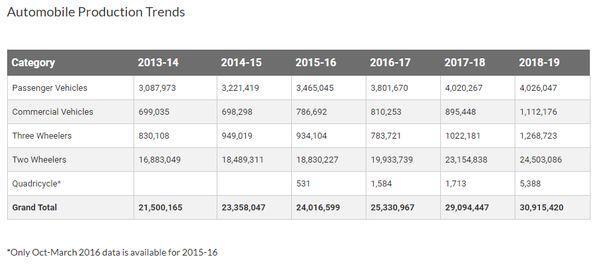 The uptick, in a market which continues to be entirely dominated by two-wheelers, has been unmistakable since 5 years and for fear of missing the next true 'growth' story, Western car makers are eager to invest
However, the 18.4% sales drop of passenger vehicles (cars, SUVs and vans) in April-June '19 is extending a slowdown which took hold around September '18 and the concurrent downswing in China (with sales falling 15% through June 2019) compounds the concern of global car makers
According to Automotive Component Manufacturers Association, quoted by the Hindu Business Line, short-term consequences for mostly contract workers are dire, with nearly a million people out of work and 'absolutely no respite in sight'
The numbers may not lend themselves to any definite conclusion but a rapid build-up of personal cars on the scale experienced in China seems unrealistic, with converging factors stemming potential growth
infrastructure weakness ailing India, seemingly forever
reliance of vehicle acquisition on shadow banking, providing an estimated 40% of car loans and putting the entire industry on shaky ground
implementation of the tough Bharat Stage VI (BS-VI) emission standard, the cleanest emission standard in line with EU's Euro 6 standard, in 2020, a probable factor of significant price increases
Because of the dangerous weakness of shadow banks, following the default of Infrastructure Leasing & Financial Services (IL&FS) in September 2018, trigering tighter access to short term loans, downgrades followed at Dewan Housing Finance Corp, a major mortgage lender, Reliance Capital and Piramal Capital & Housing Finance, among others
To cap it all, a "record 1.1 trillion rupees ($15.9 billion) of debt comes due in the third quarter of 2019" for the shadow lenders according to Bloomberg
Shrouded in uncertainty, India's growth potential is capped by perennial weaknesses (in infrastructure), self-inflicted financial shenanigans (a $190 billion stressed debt weighing on the bank system) and ambitious environmental targets .... some things may have to give ...
With slow-to-no growth home markets, exposed to resurgent Chinese manufacturers, both on their domestic market and potentially in exports, and facing ambitious environmental targets, Western car makers have just cause for concern about future growth
There can be little doubt that only the majors, who have dominated the industry over the past decades, with engineering expertise, brands and powerful distribution networks across the world, hope to take on the coming storm head-on
We hope to discuss the protection of the industrial base in America, and provide high-quality jobs in the domestic car industry, by highlighting the options of GM
Regarding the Japanese and crowded European market, we expect to have more questions than answers ...