The luxury liner of Frederico Fellini's 1983 film "And the Ship Sails on" made sail out of the harbor of Naples with conflicted passengers … Bizarre commemoration of a deceased opera diva, and often otherworldly, the voyage ended in dark tragedy on the sinking ship
Italians, conflicted – likable and engaging and torn between hopes of yesteryear and today's reality – tread a narrow path between a make-believe tantrum 'à la Fellini', irreversible commitments in the name of uncertain policies and actual structural reform
In the news because the Italian government has no intention to live up to euro-zone budget deficit regulations while the country's debt – at 132% of GDP – already is overstretched, reality is bearing down on Italy and on the European Union as well
With a powerful industrial base, hard-working personnel and sharp entrepreneurs, and a strong ethos, the country has nevertheless been unable to confront its structural weaknesses
Unquestionably, most – and possibly all – Italians are fully aware of the fact their governments, past and present, have been taking them for a ride; the necessity of reforms is incontrovertible but only the Italian voters' free choice will make them reality
In considering the key areas of structural adjustment, the later requirement remains paramount
But the euro-zone is far from unblemished
Challenged by Italy, one of its historical founders, the strain in the Union and around the common currency is an explosive mixture of self-serving policies, country by country
Italy has always been viewed as a 'make or break' hurdle and the time is long gone when leading European countries could hide their interests behind the European Commission's technocracy – decisions are bound to be political and rightly so
Ignore structural reform at your peril
Recycling a well-worn consumption-driven storyline to boost the economy, the governmental program, a collage of give-aways from the '5 Star' movement and its League partner, reduced tax loads and increased social benefits, is nothing more than a threadbare miracle wand…as we discussed in 'Italia farà da sè'

While current public debt is fairly secure with an average maturity of 7 years, new issues give the first inkling of defiance as the spread on 10 year bonds vs German Bunds remains stubbornly above 300 bp (3%)
The decision of the ECB (European Central Bank) to bring its QE (quantitative easing) program to a halt by the end of December '18 will pile more pressure on Italy as the window for additional Italian bond sales closes
As of October '18, holdings of debt securities at the ECB, compared to our March '18 data reported in 'No commedia dell'Arte' increased for a single country – Italy – by 7.3% (to € 643.7 bn), up € 44 bn, and decreased for all the other Eurozone countries (including Spain)
Cramming more debt on the ECB books is a waiting game, not a policy, and interest expenditure forecasts, published by the Financial Times, are a promise of unremitting future pain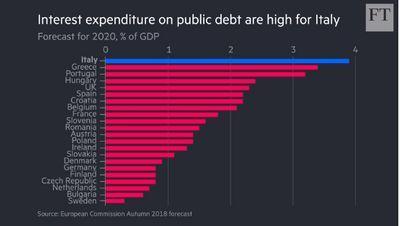 To cap the argument, often referred to in the press, it is indeed true that Italian financial institutions and private individuals have been consistently supportive of national public debt, but the very size of their commitments makes much further increases improbable, and definitely imprudent
Who will be buying now (and at what price...) ?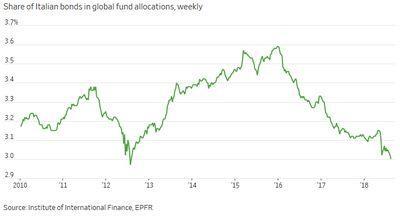 In summary, Italy's grandstanding about a budget deficit presented as a political commitment might well hit a wall – lack of interest by the bond markets, in other words lack of liquidity is the name …
What Matera and Pompeii have in common
In 2014, Matera (in Basilicata province) had been selected as the 2019 European capital of culture, securing Italian and European subsidies of €400 million to organize the year's events, to restore buildings in disrepair "in a place famed for its stunning but dilapidated beauty and history of dire poverty" (the Guardian, Sept. 22, 2018)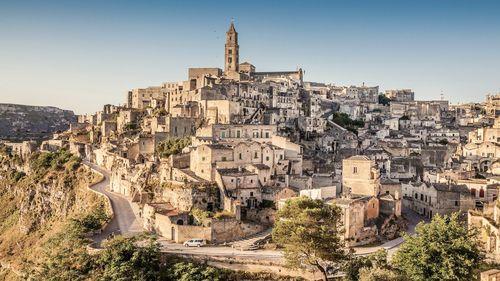 5 years after the formal selection, celebrations will go ahead – but not the planned infrastructure, 5 of the 7 structures for the cultural events will not be ready, and neither will the new railway line linking the city to Bari
And the same story repeats itself across Italy, affecting indiscriminately world-famous Heritage sites (Pompeii's collapsing walls, delayed excavation works and haphazard restoration have earned the Roman city unwelcome attention) and local public works
Total disregard of deadlines, conflicted interests of local, regional and national administrations, and inefficiencies of the construction industry translate in cumbersome bureaucracy, poor planning and corruption (Italy ranks 54th / 180 countries surveyed by Transparency International)

Matera's failure to spend may appear extreme but allocation of European structural funds to Italy, exceeding €40 bn for 2014-2020, released on basis of shared support by national subsidies, tells the same story over and over
According to Bloomberg, "cumbersome bureaucracy and poor planning means that, almost halfway through the EU's 2014-2020 budget cycle, Italy hasn't even spent a tenth of the funds allocated to it"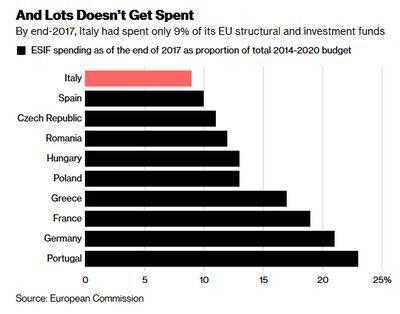 Political posturing aside, the former communist trade union CGIL, still the largest worker organization in Italy, in 2017 published a report – entitled Matera 2019: missed opportunity? – with stark warnings about the future of Matera and, no doubt, everywhere else in Southern Italy
Structural reform by way of a former communist trade union putting the political system on notice - the only adults left in the room ?


Winning the Battle of Cannae (of Education)
The Roman defeat at Cannae, lethal and decisive, at the hands of Cartago's General Hannibal, in 216 BC, during the Second Punic War, was a major disaster for Rome but the battle today has taken on the mythical qualities of a perfectly executed strategy to defeat an enemy, audacious and imaginative from a position of weakness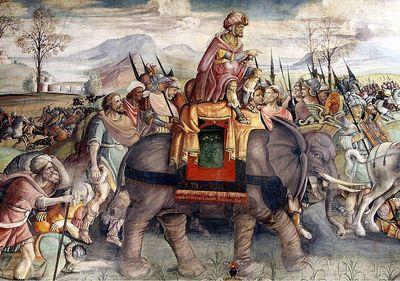 Because education today prepares for economic progress – and employment – tomorrow, radical improvement of the educational system is the structural reform by excellence …a battle of Cannae in the making, against conventions, corporate strongholds and stuffy University mandarins, necessarily ...
Fresh thinking by new parties, purporting a radical approach to Italian politics, maybe ?
Italy's educational system is according to Pisa ranking, middling – with an average score of math, science and reading ranking the country at 33d (out of 70)
However, the international standing of the best universities for medical studies, business or engineering conceal troubling inequalities in access to education
As a result, although leaving room for contradictory interpretations, young Italians earning a university degree fall well below OCDE averages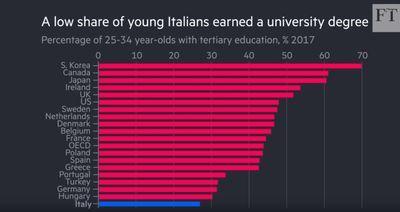 Germany, sharing the bottom ranking with Italy, nevertheless stands out because of the great strength of the country's – non-university – apprenticeship training
But a recent (2014) OCDE evaluation of basic skills acquired throughout the educational curriculum in the 24 OCDE rich countries piled on a double negative of sorts
Italian (and Spanish) college graduates were, on average, less skilled than high school leavers in the highest performing nations, Japan and the Netherlands
We prefer to sidestep the fruitless debate relating unemployment to weak average skill sets or, conversely, to a mismatch between decent training and actual employment opportunities
Ultimately, both interpretations have to confront a market reality
According to an April/May '18 Chatham House report by Brunello Rosa, Head of Research at Rosa & Roubini Associates,
Every year Italy loses more than 100,000 people − mostly graduates − who go to core eurozone countries, particularly Germany, at a cost calculated by Italy's employers' lobby, Confindustria, of around €14 billion a year, which is surely an underestimate. Recently, this 'brain drain' has been accompanied by a 'brand drain', as companies relocate abroad or are acquired by larger foreign enterprises, especially from France
The expectations of those 'left behind' require profound structural transformations in education to give them, and the generations, to come a fighting chance - and hope to succeed - and we have no doubt the entrepreneurial spirit of Italian industry will meet the challenge in turn
What is called for is not another batch of questionable private training programs, which were little more than EU-financed cash allocations, as discussed in 'Mezzogiorno...cohesion policies'
Root and branch structural reform might actually be the transformative act Italy's dark hour calls for ... Who knows ...
Calling the bluff
For all its faults, stagnating productivity, no growth and messy domestic politics, Italy benefits vastly from the protective Eurozone umbrella
Life line of Italian financial institutions owning most of the country's bonds, 10-year sovereign Italian debt priced at 3%-3.4% in euros is a considerable advantage
Mexico with strong fundamentals has to contend with a yield on 10-year bonds above 9% today

It is true Italy's governments have in the past gotten away with doubtful budgetary tactics but European integration – and full governmental support – was also part and parcel of domestic policy
The confrontational stance of the current Italian government puts the necessary dialogue in entirely different terms but, to call the Italian bluff, procedural policing will not do
Instead of a test of wills, imaginative solutions must be brought forward and structural reform points the way
Committing EU support to infrastructure investments and to educational advancement would require 'custom-made' packaging to fit in the Eurozone's regulatory thicket, but a positive approach to Italy's well-known problems would reset the dialogue like no other
E la nave va...