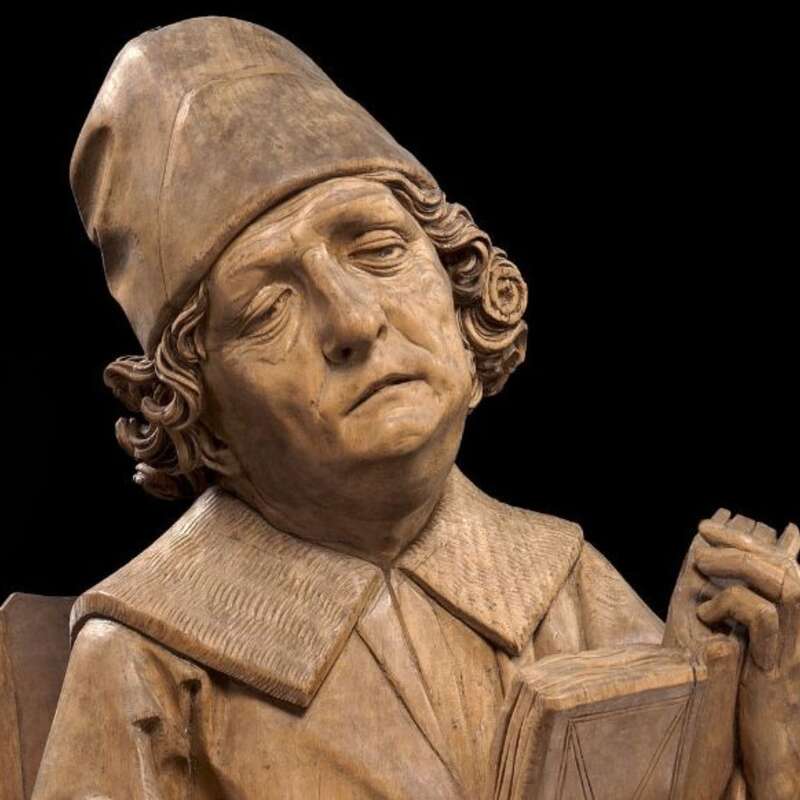 Headwinds battering Europe
Any attempt to lay out the national COVID-stimulus programs across Europe is bound to remain error-ridden because of the diversity of their provisions and continuous adjustments (on the rise) as the pandemic roils the best thought-out tactics
The IMF October 2020 Fiscal Monitor "Policies for the Recovery" is based on September data collections - out of date by publication as the virus, raging in a second wave, forced new lock-downs requiring additional public support (budgetary hand-outs and credit facilities) in the fourth quarter and into 2021
However, on the assumption that European governments are bound to implement similar measures to combat the viral spread, comparisons in terms of cash allocations, % of GDP, projected budget deficits and debt load highlight the flexibility the governments can actually afford going forward
The resilience of economies in crisis depends, unsurprisingly, on the soundness of preexisting fundamentals - productivity, long-term competitiveness, government debt (as % of GDP) - and while every government has fought the poverty and the economic downdraft with generous budgetary and liquidity measures, they will exit the cycle on very different terms
Permanently weakened, some of the countries in our review, which is focused on Europe's leading economies (keeping the U.S. and China for reference), may need profound structural reform and financial engagement of the European Union to keep the Euro zone whole
The study prepared by the International Monetary Fund, published in the October '20 release of the Financial Monitor, offers a detailed review of both Developed and Emerging Countries, accounting for Covid-stimulus measures, setting apart
'above the line' budgetary measures - allocated to the health sector or to non-health
liquidity support - equity injections, loan guarantees to business and 'quasi-fiscal operations
Economic survival at stake
This note will first evaluate stimulus measures in total, combining budetary measures and liquidity support, converted in USD dollars and as % of each country's GDP, accounting for the strong possibility that at least part of the loans guaranteed by the states will never be reimbursed by ailing companies (such as airlines...)
Covid Stimulus
Fiscal Balance
General Govt Debt
$ bn
% GDP
2019
2020
2019
2020
EU (1)
1 364
10,7%
France
535
21,0%
-3,0%
-10,8%
98,1%
118,7%
Germany
1 482
39,2%
1,5%
-8,2%
59,5%
73,3%
Italy
701
37,9%
-1,6%
-13,0%
134,8%
161,8%
Spain
220
17,7%
-2,8%
-14,0%
95,0%
123,0%
United Kingdom
678
25,7%
-2,2%
-16,5%
85,4%
108,0%
Switzerland
79
11,2%
37,0%
United States
2 959
14,2%
-6,3%
-18,7%
108,7%
131,2%
China
904
5,9%
-6,3%
-11,4%
52,6%
61,7%
(1) European Union
sce-Fiscal Monitor chap.1 IMF-Oct.'20
Stimulus measures will turn out to be outdated, as of this writing (mid-Dec. '20) - with large budgetary measures announced in the U.S., and seemingly inevitable in countries such as France or the U.K., which have attempted to walk a fine line by balancing real immediate support and a credible return to sound fundamentals later on
A gamble on a quick recovery during Q4-2020 extended in the first quarter of 2021... a gamble which has been lost with the viral surge in November-December and beyond...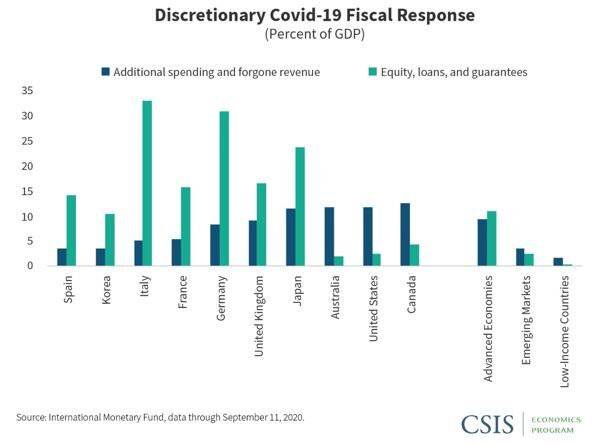 Additional measures will push the fiscal deficit for the year deeper in the red and blow government debt (as a % of GDP) at levels which will test the monetary soundness of debt loads on the capital markets, as soon as the pandemic subsides...
French 2021 budget shortfall - (link in French) - has been cut from a negative (and over-optimistic) -6.7% (as of Sept.) to -8.5% (as of Dec.) and government 2021 debt, accounting for an additional €20 billion stimulus, is expected at 122.4% of GDP (from a previous 116.4%). Along with a much lower growth estimate in current 2020 (6% instead of the consensus, held previously, of 9%), it is to be hoped that the economy will find its footing...
French central bank projections in the medium term - (link in French) - 2023 - signal a long, dark track with budgetary deficits stuck at 4% of GDP and debt at 120%
UK's Office for Budget Responsibility's Nov. '20 forecasts, based on lockdown ending Dec. 2, were dismal but the downside (worst case) scenario has become probable with new lockdowns and Brexit in shambles
with restrictive measures potentially in place until spring, the central- and the downside scenarios leave the output permanently scared by 3% and 6% respectively, assuming a smooth Brexit transition (if not, additional downward pressure of 2% in 2021 and 1.5% thereafter can be expected)
peak unemployment is projected at 7.5% (central scenario) or 11% (downside), pushing recovery into 2023 /2024
the budget deficit is seen peaking at 19.5% (central) or at 22% of GDP (worse case) for 2020/2021
public debt is expected to reach 107% by 2025 (central scenario) - or in the worse case 126%
Straightforward comparison with the German stimulus (approx. $1.5 trillion) and the leeway afforded by the country's bearable debt (at approx. 74% of GDP, after accounting for the stimulus) has intractable implications
To give (cash) or to loan (liquidity) is the question
Governmental options in weighing budgetary allocations and business loans in the stimulus package mirror their financial leeway - or lack thereof ...
Above the line measures
Liquidity support
% GDP
$ bn
% GDP
$ bn
EU
3,8%
489
6,9%
875
France
5,2%
134
15,7%
402
Germany
8,3%
316
30,8%
1 166
Italy
4,9%
91
33%
610
Spain
3,5%
44
14,2%
177
United Kingdom
9,2%
241
16,6%
437
Switzerland
4,8%
33,8
6,4%
45,2
United States
11,8%
2 449
2,5%
510
China
4,6%
707
1,3%
198
sce-Fiscal Monitor chap.1 IMF-Oct.'20
Comparisons between Germany and France are stark
Germany's GDP is 40% larger than France's
Budgetary stimulus (as of Sept. '20) is approx. three times larger at $316 billion
Liquidity support is 2.5 times larger at $1.1 trillion and broadly equal to France, Italy and Spain combined
Germany stands apart in its economic and financial response to the pandemic
U.S. GDP is 5.5 times larger than the German GDP
Total stimulus per capita in Germany is twice the size of the U.S. effort ($18 vs $9 in the U.S.)
The additional stimulus package negotiated by US Congress ($892 billion) will reduce the gap with a per capita American stimulus of $11.5 - still a way to go...
Italy is stuck in a vortex of negativity at the opposite end of the spectrum, structurally - and tragically
...with an aging population, emigration of educated youth, birth rates falling well below replacement, collapse of the once-proud consumer durables and textile industries of the country's Northern regions
Italy's share of the EU recovery fund, which, at €209 billion, represents 28% of the €750 billion recovery fund, signals the Europe's strong support of the country's commitment to reform
As for now, the outsized share of 'liquidity support' loan guarantees, which at 33% of GDP and $610 billion, will weigh on a sickly bank system and, ultimately, on public finances, compares to no other, bar Germany - possibly a risk worth taking but, in the shadow of a 160% public debt load, recovery will assume unstinting support of the European institutions for years to come...
Marching orders
...but marching at very different tunes, as this overview of IMF stimulus data has suggested
The European Union has taken extraordinary steps to drag member economies, hobbled by below-average economic performance, out of their rut
The pandemic has magnified some of the familiar structural weaknesses of Italy and of Spain, but France and the soon-to-depart United Kingdom have also edged towards the cliff
The EU has proven the doom sayers wrong times and again but, going into 2021/2023, the economic recovery of these countries is a prerequisite
Calling for political courage to garner public support for this about-turn, leaders will have to face down popular discontent as the pandemic turns into an economic slow-down before rebounding....
Reluctance to call out the fundamental weaknesses in countries with much to prove is eerily reminiscent of another momentous power shift on the European Continent
Quoting from Henry Kissinger's 'Diplomacy' (page 228)
"In 1850, France had been the largest industrial nation on the Continent. By 1880, German production of steel, coal and iron exceeded that of France,. In 1913, France produced 41 million tons of coal compared with Germany's 279 million tons; by the late 1930's, the disparity was to widen to 47 million tons produced by France against Germany's total of 351 million tons"