Heavy weather on Asian seas
Pin-insights
The October '19 report for the South East Asian digital economy, a multi-year research launched by Google and Temasek (Singapore) and joined by Bain & Company, paints fast-paced digitital market penetration
In South East Asia, 360 million Internet users, 90% by mobile (compared to poor or non-existent connections 10 years ago) are expected to spend $1 trillion in digital payments by 2025 (estimated to account for almost one in every two dollars spent in the region)
In contrast, performance for 2019 by exchange traded funds (ETFs) focused on the region hardly reflect the unquestionable achievements of the past decade which drove the remarkable growth trends projected in the SEA report by 2025
Throwing a spanner in the works, the largest regional powers abutting the region on its periphery, China, Japan, India and - from afar the U.S. - are hankering for beneficial arrangements, preferably by shutting each other out
Geopolitical confrontations, simmering enmities and uncertainty about military engagement, especially on the part of the US, entertain a climate of tense expectations
The balance between competing ambitions could remain uncomfortably vulnerable, an uncertainty weighing on mostly rational economic projections
***
The review of the exchange traded funds for South-East Asian markets, listed on the NYSE Arca stock exchange, is testimony to the vast region's uncertainties
Even the largest funds – with more than $500 million under management for Singapore, Thailand and Indonesia – are not bereft of the market vagaries which seem to cloud the future of the region

With the lonely exception of iShares MSCI Singapore ETF , returns dropping to 0% repeatedly throughout 2019 for the various funds mirror a lack of market confidence which sits uncomfortably with the potential of so vast a newly empowered population
While it would be presumptuous to fully explain the contradictions of such pervasive pessimism, some factors are relevant to the investor because a bounce could swiftly reframe market perception
The prospects of each country in South-East Asia depend to an unusual extent on the interaction of the largest regional powers, abutting the region on its periphery and hankering for beneficial arrangements, preferably by shutting each other out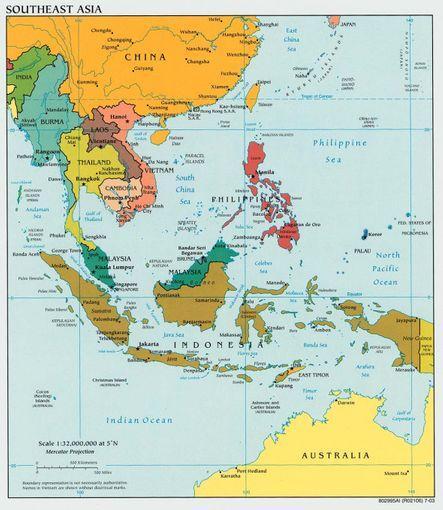 This is why not only China's shadow looms over the region : Japan and India weigh more heavily on regional destiny than they are usually given credit for, and anxieties at a perceived US disengagement is likely to spur further initiatives on their part
The dominant influence America has exercised for decades across a solid network of allies, forged in the post-WW II years, was probably bound to unravel as Asia's most populous countries grow more assertive
On the other hand, while China's tense relation with the U.S. tends to warp all further analysis, Chinese national strategic preferences, and the country's regional priorities across the Asia-Pacific region, may not be as clear-cut as its provocative moves in the South China sea might suggest
Tacit subtext of ongoing trade negotiations between China and America, the geopolitical goals the two world-sized economies can hope to achieve remain unpredictable, depriving the neighboring countries of definite options moving forward
Precarious certainties....
The evidence linking regional security to the shift in US priorities alone, should not even be conclusive
Regional geopolitics and local issues weigh in and interact with the rift between the US and China, and tensions may build up over extended time before revealing themselves, making forecasts even harder
While, in the medium-term, America can only benefit by protecting its regional dominance – provocative demands of the present Administration to long-standing allies such as Japan and South Korea notwithstanding – actual interests of the other dominant powers, China as well as India and Japan, are less clear-cut
America's presence in Asia revolves around about 50 000 troops in 23 Japanese bases and about 28 500 troops in some 20 South Korean bases, in both countries counting military infrastructures large and small, respectively the largest and third largest US forces stationed outside the United States (Germany remaining the second largest)
Demands for a five-fold increase from about $900 million South Korea agreed to pay for the current year's maintenance of American troops may signal American willingness to scale back its presence in the country if its requests are not met. A transactional posture bound to embolden North Korean tactics and an ominous policy reversal feeding anxieties across the Asian Pacific rim
No different is the US demand for Japan to quadruple annual payments for U.S. forces stationed in the country from $1.8 billion to around $8 billion, received with no less dismay
American diplomacy may be tempted to heed the calls of isolationism, an ever-present strand of the US world view, but plain security risks of a weaponized Pacific Ocean combine with compelling economic interests to protect the defensive alliances around North East- and South East Asia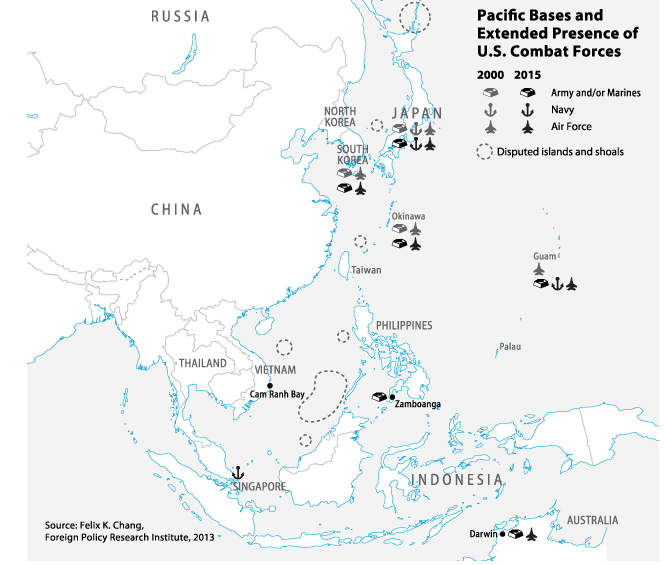 America's traditional network in the region, Japan, South-Korea and the Philippines, may be exposed to national impulses and, in fact, it already it is...
If the American military bases are the U.S. 'Far-West' frontier, its first line of defense across the Pacific, military strategists are likely to focus on glaring weaknesses of the network, rather than gloat about their capabilities
Factors of uncertainty
With exception of Guam which is American territory, the US bases are hosted as guests, and dependent on the goodwill of their allies
Mutually-reinforcing factors, resurgent national posturing and build-up of Chinese presence in the South China Sea are ripping at the fabric of the US Pacific footprint and highlighting its weakest link, the Philippines
The long shadow of wartime memories - Japan and South Korea
Tensions between the two major US allies are rooted in wartime memories
In rulings bound to be received in Japan as provocative, South Korean courts in 2018/2019 assigned Japanese companies to pay compensation to WWII forced wartime laborers and their families, including the possibility that their assets in South Korea might be seized
In July '19, Japan responded by subjecting to special permission the export of three specialized chemicals of which it essentially controls world production
Crucial in the making of semi-conductor components — memory chips, microprocessors and integrated circuits – access to the chemicals was bound to ripple through the supply chain of electronic goods
Japan also removed Korea in September '19 from a 'white list' of countries deemed safe and subject to minimum restrictions
To our knowledge, the confrontation, in effect weaponizing trade for political reasons, has not been resolved, but Japan has quietly approved shipments of all three targeted chemicals between August and November '19, while still subordinating the South Korean majors, Samsung and HK Hynix to the goodwill of the Japanese regulators
Caught in the net of domestic politics, Japan cannot afford to back down at a time when its best interest should be to reassert its economic and political heft across Asia....
...which is why we suggest tensions will continue to simmer on the back burner, a poor tactic borne out by necessity and the best available
A conflicted president of the Philippines
Rodrigo Dutertre, Philippines president since 2016, has attempted to shift his country's traditional reliance on the US by currying China's favors, hoping presumably to benefit from wholesome competition between the two powers
After five presidential visits to China, the outcome for the Philippines remains elusive and the price China is extracting quite high
Rather than invest in economic development by financing infrastructure the country hoped for, China shows single-minded interest in strengthening its grip on the South China Sea, putting its demands on a collision course with the Philippines' national interest
The Permanent Court of Arbitration in The Hague ruled in July 2016 to be an exclusive economic zone of the Philippines, which China choose to ignore
Hardly in a strong position to enforce the Arbitration, and reluctant to do so, President Dutertre was further weakened by American ambiguities, as the US ignored China's blatant violation of a promise (in 2015) not to militarize the islets and shoals of which it took ownership
The Philippines are not alone to be exposed to China's power grab, the Spratly archipelago west of the Philippines is claimed in all or parts by Brunei, Malaysia, Vietnam and Taiwan as well, the Paracels are lost to Vietnam after repeated incidents, before and after the 1974 fight with then South-Vietnamese forces, and the Scarborough Shoal on the Philippine continental shelf from which China promised to withdraw (in 2012) but did not also seems out of reach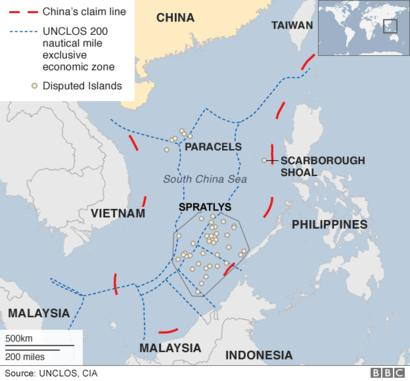 China choose to ignore the legal rights of neighboring countries in the single-minded pursuit of control over the maritime access lanes through the South China Sea, a vital route for its economy and military capacity
In the Chinese perspective, this priority has been paramount and military implementation of the strategy non-negotiable
Without any qualms, China has gone to extremes, ejecting fishing boats of Vietnam and the Philippines from their traditional fishing grounds, confiscating fish from the boats, destroying fishing gear and sinking at least one Philippine boat in June '19, eliciting a belated apology from an unnamed Chinese association (3 months after the incident)
With hundreds of Chinese fishing boats in the contested waters, neighboring countries have abandoned the fight, Vietnam in the Paracels and the Philippines in the Spratlys
Predictably, the tactics have stoked anti-Chinese sentiment across the region, constraining the Chinese ambitions of the Philippines president and throwing future dealing around deep water oil exploration in the South China Sea into doubt
For China, playing the part of the aggressive, up-and-coming dominant force in the wider Asian region may turn out to be self-defeating in the effort to nurture credible alliances, in a not-so- distant future
It remains to be seen how the competing powers across South East Asia will attempt to tie trade interests to their broader geopolitical strategies
The decidedly awkward posture of the American Administration, reclaiming dollars and cents from its allies, may ultimately give way for the true priority, negotiating the reinstatement of a military naval base at Subic Bay in the Philippines to manifest its commitment to the larger region
India, at the heart of the wide Indo-Pacific region, cannot remain hidebound for long, as Chinese diplomatic (and military) presence spills over into its security buffers
How China prepares to respond when confronted - by popular national protest or by competing geopolitical forces - might be the real challenge in its long view
All of which we will discuss in 'the Geopolitics of Trade'