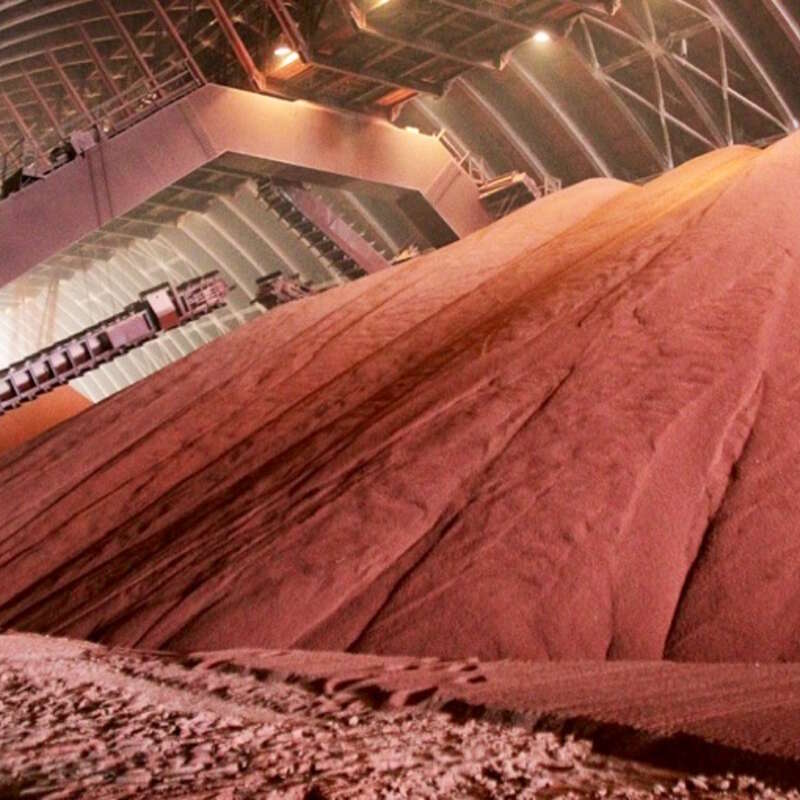 Potash is a commodity and one of the three indispensable macro-nutrients NPK's for plant growth, nitrogen (N), phosphorus (P) and potassium (K)
Mined in large volume in a few areas, essentially in Canada, Eastern Europe and Russia, where 82% of global recoverable deposits are located, national companies dominate this commodity market
Canada is by far the most influential producer, with estimated reserves of 10 billion tons (more than 60% of global reserves), a production capacity which is also a magnet attracting mining conglomerates in the fray
Cartel price agreements between the leading Canadian and European miners broke up in 2013, under pressure of the State-controlled firm of Belarus and prices kept falling as a result of large volume 'block' deals by dominant importers of the fertilizer (China, India, Brazil and the U.S.)
Potash demand is on a regular upward trend of approx. 5% per year but current mining facilities have done better than keep up – with a buffer of deliverable extra tonnage which balances almost exactly the planned volume expected of a new Canadian mine, under construction by BHP-Billiton
Hardly an encouragement for the mining conglomerate, which invested $4 billion since launch, with an additional $5.3 billion to go into production…
Smaller fertilizer producers – more diversified and catering to various markets (agriculture, industry and consumers) – could be better positioned for a price war in the basic commodity market
More significantly still, the emphasis put on sustainable agricultural practices, a priority in ever larger parts of the world (Europe and the Americas, but also China), requires more sophisticated fertilizers, adapted to local soil and climate characteristics
Specialized fertilizers could well be the front-runners of more advanced agricultural processes, focused on the intensification of crop production while husbanding the natural resources with care
NPK - What is in a short name ?
NPK stands for the three macro-nutrients used by plants, nitrogen (N), phosphorus (P) and potassium (K)
Mix of the 3 nutrients will vary by crop as shown on this US Geological Service (USGS) diagram and – of course – by soil type as well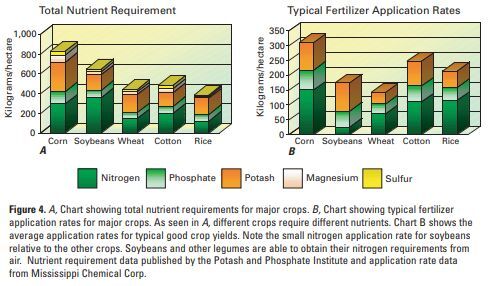 The global fertilizer market is evaluated at $206.392 billion for the year 2019 growing at a CAGR of 1.98% reaching the market size of $232.221 billion by the year 2025, according to ResearchAndMarkets.com (oct 20)
With nitrogen (N) produced by industrial process (Haber-Bosch) and naturally present in the air, the focus on fertilizers to grow food in productive ways rests on access to phosphorus (P) and potassium (K) compounds
The later - K - is reviewed in our note
Potassium
Potassium (K) is essential for plant growth, facilitating sugar movement through plants, and boosts resistance to stresses such as drought and disease – the generic Potash refers to potassium compounds such as the commonly used potassium carbonate
The Global Potash Fertilizer Market was valued at $19.70 billion in 2018 and is projected to reach $25.05 billion in the year 2024, witnessing a CAGR of 4.4% over the forecast period of 2019-2024, more than twice as fast as the global fertilizer market
Constituting 2.4% of the mass of the earth's crust and widely available as natural nutrient across the world, the total global potash deposits amount to an estimated 210 billion metric tons of potassium oxide, of which 16 billion metric tons are recoverable using existing technologies
Among the 16 billion metric tons, Canada holds deposits of 10 billion metric tons, most of it in the province of Saskatchewan, Russia 2.2 billion metric tons and Belarus 1 billion metric tons, and these three countries dominate the global potash supply, having a direct control on the prices of potash fertilizers
The world's total potassium chloride export was estimated at 49.8 million tons in 2018 and 94% of potash (potassium chloride) export originates in 5 countries – foremost Canada (44% of world export – 21.9 million tons in 2018), Belarus, Russia, Israel and Germany
Massive investments required by potash mining, deep underground, have undoubtedly been a factor in concentrating production locations
Main importers are the U.S. (7 million tons), Brazil (6.2 million tons), China (5 million tons), India (2.7 million tons) and Indonesia (2.2 million tons) - sce NationMaster - highlighting the dependency of these countries' agricultural sectors on foreign fertilizer suppliers
China will remain import-dependent for supply of high volume potassium chloride (MOP) for lack of natural resources
The abolition in January 2019 of export duties on potassium sulphate (SOP) by China - originally implemented to protect domestic resources - may favor the much smaller volume of SOP, considered a premium-quality potash, with two key nutrients for growing crops: potassium and sulfur (but no chloride). Chinese exports of the fertilizer still remained negligible in 2019 (8 700 tons vs. more than 500 000 tons for top exporters Germany and Belgium)
What a lovely cartel...
Unsurprisingly, State interests (Russia, Belarus but also Canada) and the small number of players on the international market led to cartelization, both in Europe between Russia's Uralkali and Belaruskali of Belarus and in North America, where Canada's Canpotex represented PotashCorp, Mosaic , and Agrium
The analysts estimated that the "effective duopoly" of the cartels had allowed to maintain average gross operating margin of about 66% at PotashCorp, and probably for others, but the good times can to an end in 2013 with the break-up of the European cartel
While demand for exports on the international market has been growing on a regular basis, attempts by Belaruskali and others to gain market share and overproduction of muriate of potash (MOP), one of the most commercially used and popular fertilizers with approx. 50 million tones being sold and used annually, pushed prices for the fertilizer product well below their 2009 peak
With the merger of the two major Canadian players, Potash Corporation of Saskatchewan and Agrium, forming Nutrien in early 2018, suppliers may have regained a measure of control over the potash market which improved moderately in early 2020
Spoilers waiting in the wings ?
Only very deep-pocketed conglomerates – or state-owned enterprises acting in the national interest – might consider entering the potash market, if the multi-billion dollar investment can be warranted by profit expectations or reliance on a domestic fertilizers industry
BHP-Billiton is such a conglomerate, eager to establish market presence in one of the indisputable future global 'mega-trends', food availability in quantity and quality for a growing population
With the Jansen mining project in Saskatchewan (Canada), BHP-Billiton already was already committed to a large extent by investment decisions made before the 2013 cartel break-up, having spent roughly $2 billion, including acquisition costs at the time
While pushing back production launch time and again, investments committed to Jansen have doubled, reaching $4 billion covering two-thirds of the construction for phase 1 of the mine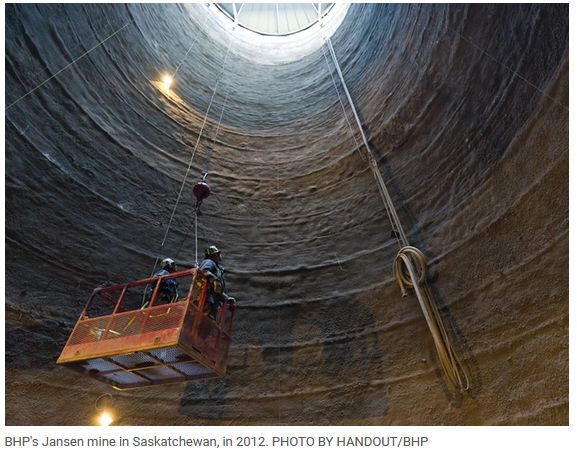 According to the company, as of August '20, finishing construction would take an estimated five years and require at least an additional $5.3 billion. BHP suggests it would take two more years before the mine ramped up to its nameplate capacity, and could produce about 4.3 to 4.5 million tons of potash, approx. 8 to 9% of current global demand
By delaying final decision to mid-2021, BHP might align potash delivery from the new mine with projected demand at the end of the '20s decade – when marginal imports from countries with growing populations outstrip their domestic production capacities
While a costly price war might unnerve established potash exporters, countries retaining significant potash reserves with a strong incentive to maintain food independence, foremost China (with reserves estimated at 360 million tons), may throw BHP's projections in disarray
Although uncertainties will hang over BHP's ambitious market entry, the sizable investments sunk by the company, pursued to this day with an additional $272 million commitment as of Oct. 2020, make the Jansen project a probable reality by 2030 – likely to weigh on forward-looking valuation of the two listed companies, Mosaic of the US and Nutrien of Canada, as well as Nutrien own expansion projects
Supply, Demand and Potential Oversupply
It is in terms of global - wordwide - tonnages that the "World Fertilizer Trends and Outlook to 2022" report, dated 2019, is the most informative
Representing the maximum achievable production, supply is computed from the "nameplate capacity" (theoretical capacity), multiplied by the operating rate projected for the period under consideration
Demand of potash is split between fertilizer use and other use
Potential balance is the difference between supply and total demand (fertilizer demand of potash plus other uses demand)
Potash
in '000s tons
Oversupply
2018
Capacity
61 951
Supply
49 422
Fertilizer use
37 171
Other use
5 876
Balance
6 375
2020
Capacity
63 467
Supply
52 752
Fertilizer use
38 711
Other use
6 112
Balance
7 929
2022
Capacity
64 553
Supply
54 197
Fertilizer use
40 232
Other use
6 363
Balance
7 602
sce - FAO-World Fertilizer Trends to 2022
As a measure of the attention paid to alignment of supply and potash demand, the ratio of total demand (fertilizer and other use) over supply (achievable production) is barely expected to budge (87% in 2018 - 85% in 2020 and 86% in 2022) and fertilizer demand will similarly enjoy stable supply (75%-73%-74% of total potash tonnage available)
The data, provided to FAO by professional trade associations, are consistent with the oligopolistic structure of the potash suppliers market but the increase in potential balance (available capacity in excess of demand estimates) sends an additional message
vs 2016
2018 / 2016
2020/2016
2022/2016
Supply Increase
12%
19%
23%
Fertilizer Demand
5%
9%
14%
Other Use Increase
5%
10%
14%
Oversupply Increase
101%
150%
140%
sce - FAO-World Fertilizer Trends to 2022
Presumed to be reliable as of 2019, the potential oversupply reported for 2016 (3 171 tons) and for 2018 (6 375 tons) in the annex 3 - page 20 - represent a spectacular 100% increase, expected to be consolidated in 2020 (150% over 2016) with a small drop projected for 2022
While projections - even over the short to medium term - might fade, the reader might be interested by this behind-the-scene warning to new contenders...but we doubt BHP-Billiton has been amused
The ability of the miner to deliver an additional 4.3 to 4.5 million tons from the Jansen mine in the global potash market after ramp-up, by 2027 - 2028, remains open to question...
Protecting market shares
To estimate current market shares in the potash market, we refer to the chart published by ICL in Form 20-F of the U.S. Security & Exchange Commission - Fiscal Year ended Dec.31, 2018
Exact market shares have obviously shifted over time and the data is purely informative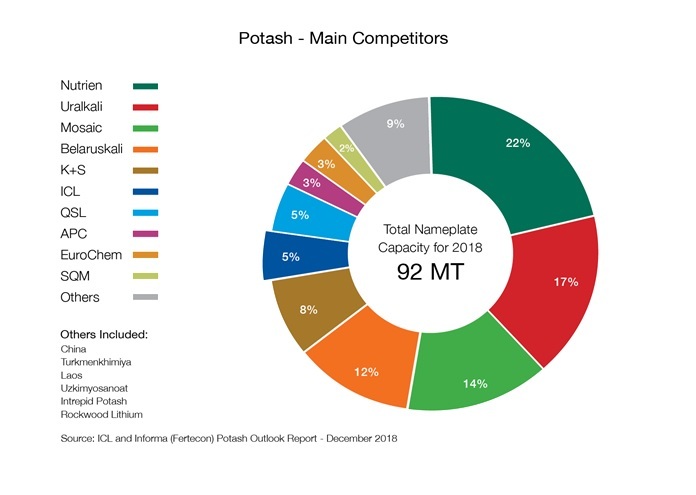 Although based on nameplate capacity, which is the theoretical capacity of the mining facilities, it will be assumed that broadly similar operating rates of the competing miners will allow for comparable supply capacity
Next to the Canadian, Russian and Central European miners (Nutrien, Uralkali and Belaruskali), which may deliver 51% of world supply, and U.S. based Mosaic (14%), European, Middle-Eastern, Chinese and South-American miners account for 26%
based in Europe - Kali & Salz (K+S) of Germany is one of the more diversified potash miners and fertilizer specialists - with 2019 revenues of approx. €4 billion - expected to drop by 9.7% in 2020 if the 9-months trend holds for the full year
ICL is the Israel-based chemical group, with 2019 revenues of $ 5.2 billion, expected to drop approx. 10.5% if the 9-months trend holds - with mining operations in the Dead Sea (Israel), Cataluna (Spain) and Scotland (UK)
accounting for 5% of theoretical capacity worldwide, QSL is the main Chinese potash miner - 18.5% owned by Sinochem, second largest share holder after Qinghai Salt Lake Industry Group - the lowly estimate of available supply is indicative of China's dependance on potash imports (7.5 million tons)
APC is the Arab Potash Corporation - at 3% of global potash capacity and declared annual production capacity of 2.3 million tons - processing Dead Sea brine
Privately owned EuroChem has mining activities in Russia and in Kazakhstan - Turnover in 2019 has been $6.2 billion and reported unchanged year-on-year sales for Jan-June '20 at $3 billion
SQM is the diversified Chilean conglomerate Sociedad Química y Minera de Chile, and one of the major lithium producers, deriving carnalite (potassium magnesium chloride) during the evaporation process of the brine
Intrepid Potash is a small U.S. based potash producer with sales of $220 million in 2019 - out of total turnover, 47% are pure potash sales and 29% generated by brand-named Trio, a potash-based fertilizer (mixing magnesium and sulfate)
Market shares : soon to be a game of offense ?
Dominance by potash suppliers may appear to be preordained by the high volume commanded and by their small numbers
However, involvement by State-controllled firms - both in Belarus and in Russia - and leverage of Canadian authorities derived from the exceptional size of the country's resources have been factors of unpredictabiity in market price dynamics, as has been proven by aggressive market gains sought by Belarus since 2013 and by the merger of the two Canadian firms - Agrium and Potash Corp. - in 2018
On the demand side, price deals for high-volume commitments by the largest importers further drove the market - 5 countries, the U.S. (7million tons), Brazil (6.2 million tons), China (5 million tons), India (2.7 million tons) and Indonesia (2.2 million tons) consume approx. 50% of annual supply - and close to 80% of the 'potential balance' mined in Canada, Belarus and Russia, as shown below
Potash 2020 (in mt)
Supply
Agri.Demand
Other use
Balance
Latin America
7 990
676
-7 072
East Asia
15 608
2 565
-11 065
South Asia
3 900
327
-4 194
Sub-Total
27 498
3 568
-22 331
North America
19 111
12 510
East-Central Europe
17 645
16 138
Sub-Total
28 648
sce - FAO-World Fertilizer Trends to 2022
The possible market entry by way of the Jansen mine of BHP-Billiton - a mining conglomerate which set its sight on diversification in the fertilizer business because of its long-term growth prospects, originally with the failed attempt to acquire Potash Corp. in 2011 - could further disrupt profitability prospects of the legacy miners
From an investor's perspective, uncertainty hanging over pricing of the potash in the commodity market should favor the most diversified fertilizer producers, balancing mining interests with research and marketing of more advanced nutrient mixes, catering to a broad range of clients - in agriculture and in industry
Firms in the specialty chemicals industry such as ICL or K+S are worthy candidates in their own right but the growing emphasis on sustainability in agricultural systems - in advanced high-income countries and key developing countries such as China alike - raises the bar even further
Fine-tuning fertilizers by soil specifications, offering guidance on the most effective timing and volumes of fertilizer allocations, introducing measures of efficiency of fertilizer combinations, tracking of crop growth patterns, encouraging efficient water management during the growth season and engaging experimental recoverage of damaged soils could point the way forward
A challenge and an opportunity for specialty chemicals firms which prove apt at applying technology - from drones and lab analytics to pointed data management - in new settings
By aligning environmental preservation goals with advanced solutions of fertilization, specialists might leave mass commodity miners scrambling, with dropping profitability ratios...